How to Choose the Best Toddler Clothing
The common mistakes that most new parents make is that they always buy their toddler clothing based on how they look instead of their quality, comfort, and size.
When you are choosing your kid's clothing, it is important that you not only think of the above mentioned features, you also need to think of safety as well and remember not to buy clothes that has too much buttons, zippers, and any objects that that can be easily removed and cause safety issues to the child.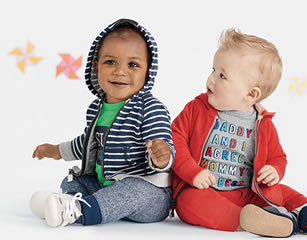 The very first thing that you should consider when purchasing your toddler clothing is that they should be really easy to pull down so that they can go to the bathroom with ease. Onesies are not the best piece of clothing for your child if he or she is being potty trained because this will cause quite a number of accidents.
The best clothing to consider for kids who are being potty trained are big kids clothes, in other words clothes that are built with two pieces such as skirts, shorts, pants, and tops. Dresses are also a good option for girls because they can be raised easily. Your child has passed newborn, passed toddler clothing age but is now into tweens clothing and they want Designer outfits, no longer to maintain appearance for you.
Then you should always think of quality. Do not buy clothes that are made from materials that are too rough on the outside and especially not on the inside. Ensure that the clothes are soft to the touch, durable, and extremely light.
Remember that your toddler is growing and they love to run and have fun; therefore, their clothes should not act like a hamper to them, instead it should make it easy for them to be a child and the clothes should also be durable. Do not think that because the cloth is light that it should be cheap or easily destroyed.
Choosing designer children's clothing such as the ones designed by GYPSY 05 is your best way to go because clothes made by most designers take your children's clothing needs into consideration and while designer children's clothing are a little bit more on the expensive side, they are well worth it and you will not regret the spend in the end.
The best option for your kids clothing is pure cotton because these are soft and very durable. Never buy any clothes that are 100% polyester because they will gather a lot of lint after the first few washes. You should also check to see if there are any smells emitting from the fabric because painted on designs and dyes might cause some serious problems to your child's skin so stay away from fabrics that have been dyed or painted.
So that you know what clothes to stay away from, keep far from dollar stores, retail outlets, and flee-markets because these places are known to always sell cheap clothes that will at times irritate your toddler's sensitive skin.
Shop anywhere, find it all with DHgate.com
DHgate makes online shopping simple, efficient and can delivers great buying incentives for their customers. They have a large products selections from electronic gadgets & accessories, children's toys, clothing, sports & outdoor products and much more. Visit their shopping store page for more special discounts offered only at DHgate.com.
Tags :
DHgate