Simple Guide to Choose Children's Clothing
Sometimes parents frequently fail to notice the importance of stylish children clothing for their kids. Instead of buying apparels for kids from a proper store, parents often choose to buy reasonably priced set of t-shirts and trousers from any hyper mart. This should not be the frequent practice for the parents of today. Look at the world around you, the fashion, latest trends and style it's so fast developing and changing at the same time.
Even if your kid is very small to understand what style or fashion is, they do carry a style of their own. They can feel out of place and not significant if you continue to buy him or her, the same low-grade clothing. It is important to strike a balance with style and quality against the price of clothing for the kids. You have to look for the best in material, comfort and fashion while not burning a hole in your pocket.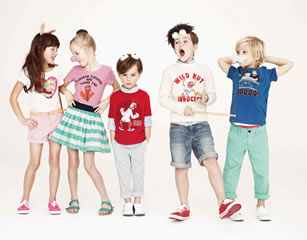 Yes at times getting the best means expensive things but you can always find alternatives. Fix a budget for the set of clothes you are thinking of buying. Adjust between the sets in case you find sometime very interesting but a bit above your budget.
Stated below are some very simple ideas on how to make a difference next time you are choosing children's clothing?
Comfort and Style are the primary factors to look at while buying clothes for your kids. To provide your kids with comfortable and stylish clothes you don't need a fortune. There are several online stores like 'as little as' which can provide you with a wide variety of choices for your children clothing, and as the popular belief is it much cheaper than the expensive brands.
Kids are always sweet and adorable so it definitely would not take much effort to make them appear beautiful and sweet. A simple but a suitable dress will always cater to your pretty little queen. Just be smart to add a little bit of accessories for the hair to add in an absolute beautiful look. A usual pair of good quality jeans worn with cotton shirt with attractive print designs will do very well for most of the young ones today.
Improving the Self-Esteem of your kids is very important. Though at a young age, your children would start developing their confidence and self-esteem at a stage when they start to go to their school and interact with their friends. It is quite logical when parents go to a great extent trying to lower the cost of buying apparels for their kids, but in doing so sometimes they may end up compromising while choosing children's clothing.
Children today have grown the tendency to evaluate themselves with the other kids they meet up pertaining to what they don't have that the other kids have. Though looks for them is one of the least priorities. They may perceive that other kids are getting which they do not have. Though this learning is not bad at all and will definitely help them with the sense of better understanding and maturity but still you give them something better than the poor quality clothes to wear. You can gift them with various nicely styled clothing every time they achieve some good result in the school or in sports, etc.
Please no more Hand-Me-Downs. It is a common practice for parents with several kids. They usually give the outgrown clothes of their elder ones to their younger ones to wear. May be this is a practical idea and no one is telling that don't ever do this, but think about it from the kid's perspective. Their elder brother or sister gets a new set of clothing whereas they only get the old outgrown clothes of their brother or sister. This might have a bad impact on them and they might feel neglected.
This can even aggravate into sibling rivalry. Do pass on the outgrown clothes to your young ones but not always, check the condition of the clothing, it should have be faded or carries a dull look. Do a wise thing by handing over a not so old pair of jeans but buy him or a new t shirt to wear with it. This will make the kid happy and in turn make you happy.
PatPat.com makes outfitting your kids easy and fun!
PatPat is a shopping platform for moms to find great deals for themselves and their families, without spending a lot of time and money. And selecting the appropriate clothing for babies and children at PatPat.com is simple because it is designed to be seasonable and comfortable for them. Simply put, they offer a large assortment of cute, quality clothes at great prices so that families all around the world can have more joyful moments. Visit Patpat.com for special discounts for your kids' & babies' clothing needs.
Tags :
PatPat